Exceptional Services
All of the resources and expertise. None of the bureaucracy.
While Ceros has the resources and expertise to provide the services you need, we're not so big that you can't reach the right person or have to fight to be heard. In fact, our clients get to know us pretty well – even our senior decision-makers. Not only are we easy to reach, we take an active interest in your business' success. Often we're able to address potential issues, or identify opportunities, proactively. When there's a problem or challenge we can be counted on not only to answer the phone but to apply all of our resources and talent to find the best resolution in a timely and efficient manner.

Consultative Approach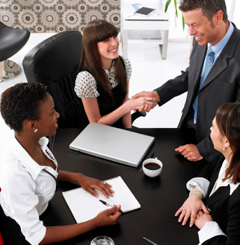 We take the time to fully understand our clients' business goals, challenges and structural realities because we want you to succeed – and to be with us for the long haul. Our boutique structure and philosophy gives us the flexibility to customize our entire suite of services to best fit the needs of each individual client – and to adjust over time and through changes in business structure or size. We are not limited by bureaucracy, multiple levels of management, conflicts of interest or any other of the impediments which trouble many of our larger competitors. Instead, we treat each client as a true partner.
When clients want to discuss a new idea or challenge, or just want to brainstorm, they know they can do so at any time. Often, clients consult with us prior to making changes or adjusting the way they do business. In this way, Ceros provides far more than cutting edge technology and back office functionality. We provide a valuable long-term resource, flexibility and a wealth of knowledge to some of the most successful, and most loyal, investment advisors in the US.

Advisor Directory
Ceros' clients include some of the most successful independent advisors in the US. While our advisors represent a broad cross-section of styles and experience, they all have one thing in common – they all comfortably rely upon Ceros' consultative partnership, robust technology, global trading platform and superior service offering to help them grow their businesses and service their clients.
A significant portion of our advisors are active managers, who value Ceros for our expertise in serving their particular needs. Some are hybrid advisors and some are fund managers who rely on Ceros for our execution capabilities. No matter what their approach or their needs, however, our client turnover rate is extremely low.
We encourage our clients to network, share knowledge and experience and investigate new ideas. We also hold annual forums where they can get together. They can be found in our directory, which includes contact information and links to their websites.
Ceros provides exceptional service – and invites discussion of your particular business needs. Contact Ceros today to learn more.