Trade Execution & Custody
Skill, technology and know-how.
Ceros' seasoned traders are armed with advanced trading technologies - and years of experience.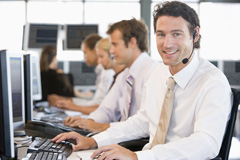 Efficient, reliable trading takes a great deal of skill and expertise, as well as a considerable investment in technology and infrastructure. At Ceros, we employ an experienced team of professional traders and equip them with everything they need to achieve the best possible execution for our clients – and yours.
Whether you are an RIA in need of occasional trading services or a fund manager who wants to outsource or supplement a full-service trading desk, Ceros is extremely well positioned to provide superior service and value.
Or, if you prefer to place your own trades into the market, Ceros has an array of trading systems to place on your desk that uniquely fit what you want to trade.
Discuss your trading needs with a Ceros professional today or contact us online for more information.
Payment for Order Flow Practices/Disclosure of Order Execution and Routing Practices
The following statement is provided to you as required by Rule 11Ac1-3 of the Securities Exchange Act of 1934
Ceros Financial Services, Inc. does not receive compensation for directing order flow. Ceros routes orders through National Financial Services LLC ("NFS"), selected ECN's and other execution points.
In consideration of orders routed by Ceros to an Electronic Communications Network ("ECN"), the following apply: Orders routed to an ECN are executed on an Agent basis on behalf of Ceros. Industry wide pricing practices result in charges or rebates to Ceros for adding or subtracting liquidity when routing orders to an ECN.